Broadband and Entrepreneurship in Small and Rural Communities
Business Growth and Broadband
Over the next two years a team of researchers at TIPI will explore the intricate relationships between information technology infrastructure and business growth in a project sponsored by the IC2 Institute at the University of Texas at Austin. The project, "Broadband and the Rural Entrepreneurial Ecosystem", focuses on small and rural counties in Texas, Kansas, and Maine.
Avoiding a "rural deficit" framework, this research has the goal of understanding how incremental improvements in the capacity and cost of local rural broadband connectivity can make a difference for local entrepreneurship systems. The project hopes to contribute quantitative data to participating communities relating broadband and business statistics. The project seeks the input of local stakeholders to help understand the present and future technology and Internet needs of small and rural communities
There is a need to understand the relationship between broadband and the resiliency of rural areas in the United States. Broadband is a critical component of today's economy, and rural communities still face disparities in broadband availability, price, and speed. About 65% of rural Americans have access to high-speed fixed service compared to 97% of urban dwellers, not counting mobile phone access. Some sources argue that these figures inflate the lived-realities of rural citizens.
The Internet is increasingly embedded in all aspects of life in the U.S., and Internet access and the skills to use, maintain, and build Internet systems are essential. Businesses rely on the Internet in order to do everything from accessing supplies, engaging with customers, and securing capital. Broadband has an important role in retaining human capital, but often is a foundational service that rural areas have in short supply.
Guiding Questions
The major inquiries driving this project ask:
How does broadband service quality and price affect entrepreneurship?
How do entrepreneurial efforts characteristic of rural regions specifically use broadband?
How do their business and public "ecosystems" interact with this infrastructure?
Intended Outcomes
We hope to contribute findings that discuss the ways technology makes a difference for local economies and especially for entrepreneurs. First, we will use available statistics on broadband, business metrics, and population data to craft up-to-date quantitative results on the present conditions in our participating counties and will share these metrics in the hope they are a benefit to local stakeholders. Then, on-the-ground investigations in selected counties will detail the ways entrepreneurs in rural regions have coped with broadband needs. We are looking forward to learning more about the local, lived circumstances and opportunities for broadband in rural settings and sharing our research with communities that join us. 
To download this primer, click here.
Sharon Strover
Alexis Schrubbe
Jaewon Choi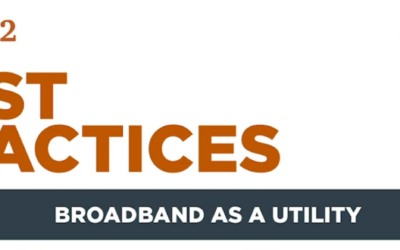 TIPI's Dr. Sharon Strover recently joined Professor Sherri Greenberg and Dr. Kenneth Flamm for a conversation on broadband as a utility in Texas with Dr. Art Markman...
read more
The Technolgy & Information Policy Institute main office is in the Jesse H. Jones Communication Center, Building A. We are part of the Moody College of Communication.
Find Us
2504 Whitis Ave.
CMA 5.102
Austin, TX 78712