Travis County Community-Driven Wildfire Evacuation Drill
Project Description
Natural disasters are increasing, and communities prone to wildfires need to better understand how to prepare and evacuate before disaster strikes.  Preparedness is an important issue because Texas ranks fifth in the US in wildfire risk, and first in the US in the variety and frequency of natural disasters.  In this project, TIPI Co-Director Keri Stephens led a team of graduate and undergraduate students to design a research study as they partnered with official emergency responders, a county commissioner, and the Comanche Trail Community Association.
Done before?
This is the first time a community-wide wildfire drill that had residents physically participating has been conducted in the U.S. Firefighters conduct practice drills often, but getting the community involved is rare.
Our Team
Brigid Shea, Precinct Two County Commissioner, National President of Local Governments for Sustainability
Pete Martinez, Former President, Comanche Trail
Will Boettner, Wildfire Specialist, Certified Wildfire Risk Reduction Arborist
Adam Griggs, Lake Travis County Fire & Rescue
Dr. Keri K. Stephens and a team of graduate and undergraduate students:
John Collier, Katie Lever, Shivam Patel, Courtney Powers, Brett Robertson, Danielle Soibelman, Lauryn Spearing,  Kendall Tich
More About The Project
Drills are an integral part of how people prepare to protect themselves from fire because they can practice life-saving actions.  But around the globe we all face a similar challenge:  getting people motivated to protect themselves against fire has proven almost impossible.
The mission of this community-wide wildfire drill was to motivate a community of 200 households (400 total residents) to participate in this drill.  To do that, they had to pack a go-bag (fire preparedness person necessities), respond to a text message alert, get into their cars, follow the instructions of fire and police professionals, and arrive at a designated evacuation area. After 2-years of planning, and one failed attempt, there were over 90 people who participated in the wildfire drill.
This successful service project shows that faculty and students from the University of Texas can get involved in communities and make a real difference.
More About Our Science
Survey
Relied on behavioral health theories to assess variables such as self-efficacy, susceptibility, severity, social norms, and community associations.
Found that community relationships and the feeling that doing what others think are right, provided an important contribution to preparedness, above what was found for individual-level variables, like self-efficacy.
Observations & document analyses
Used Houston et al., (2015) communicative resilience framework.  Found that community resilience was created by their detailed planning, collaborations between the community and official responders, direct contact with the community, and their desire to share their planning documents with other communities.
Our paper reporting these findings is currently under review, so we hope to share the full published version soon.
Conference Presentations & Talks
Innovations in preparedness: A successful wildfire drill in Texas with community participation (February 2021)

Our team presented the details of the wildfire evacuation drill for the Disaster PRIMR Conference, where Texas researchers, NGOs, and governmental organizations shared best practices. 
Team:  Keri K. Stephens, Pete Martinez, Will Boettner, & Brigid Shea.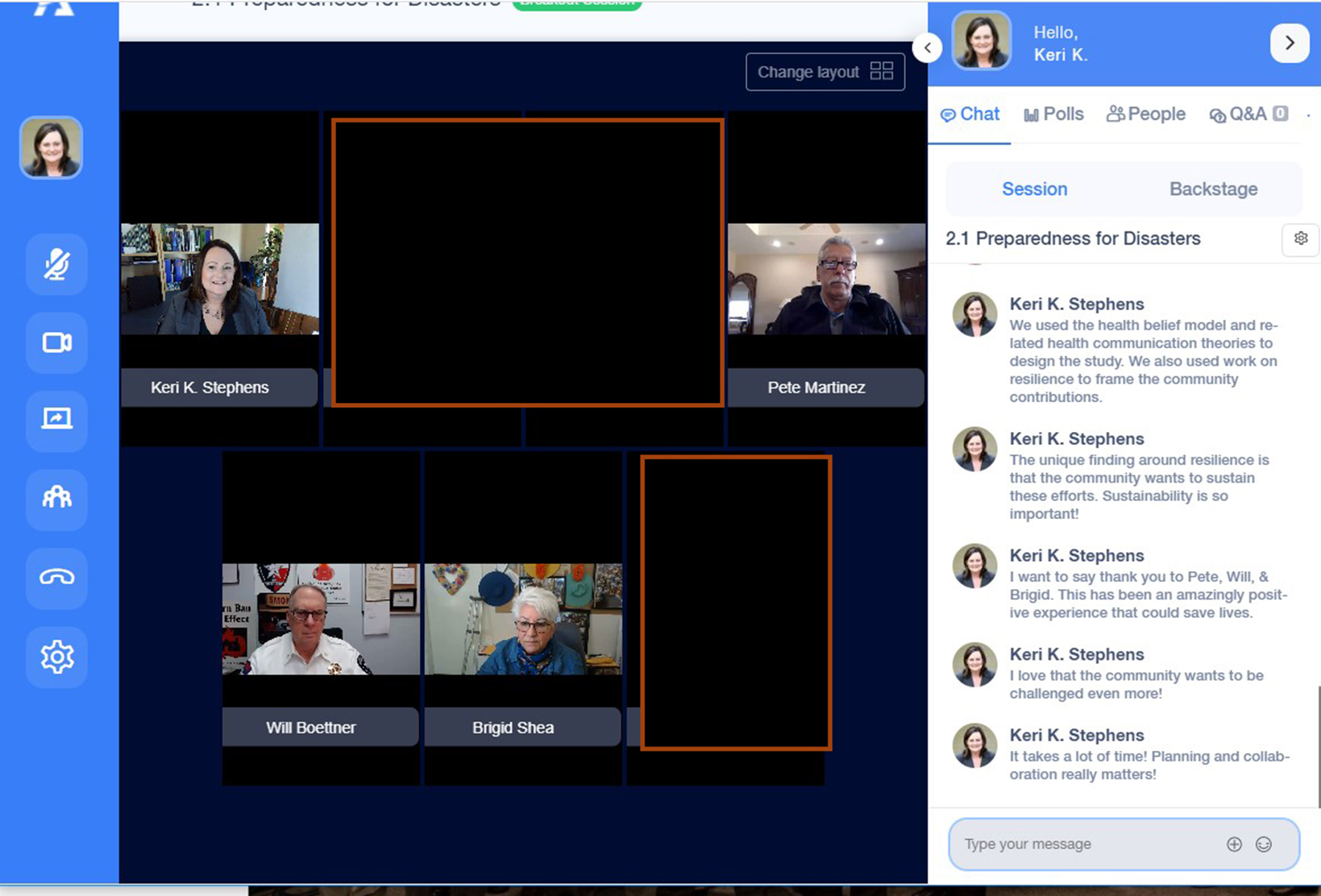 Other Presentations
Keri K. Stephens, Brett W. Robertson, Courtney J. Powers, Kendall P. Tich, Dani Soibelman, and Katie Lever presented on a panel at the National Communication Association Conference in Baltimore, MD. in November of 2019. The title of their panel was:   Organizing to survive: Using a community-wide wildfire drill to link theory and practice.
Keri K. Stephens, Brett W. Robertson, Courtney J. Powers, Kendall P. Tich, Lauryn Spearing, and John Collier presented their paper at the International Communication Association Conference scheduled to be in Gold Coast, Australia (presented virtually due to COVID-19), May of 2020. The title of their paper was Building more resilient communities: Communication and organizing practices in disaster preparedness.
Keri K. Stephens teamed with Will Boettner, PG, CA, Firefighter and Wildfire specialist for the Travis County Fire Marshall's Office to write a best practices article for the international publication, Fire Magazine, that was just published in April of 2020. The editor of the magazine had this to say about this project: "Following the widespread flooding across the UK it was warming to discover a research wildfire drill project in the Austin Travis County region of Texas, with a population of 1.4 million residents which ranks fifth in US wildfire risk (see April issue of FIRE or contact Dr. Stephens for a copy). The research findings from the drill by the University of Texas found that people who were more involved in the community association, and those who felt social pressures to prepare for fires, were more prepared. Researchers found that there seems to be more to preparedness than simply getting individuals to act. There was a collective sense that preparedness is important for this community. This approach seemed relevant in the wake of recent widespread flooding and now seems even more apposite amid Coronavirus."
Be on the lookout for more publications and talks as we continue our project.  More about the project, and related projects, can be found at orgcommtech.org / Contact keristephens@austin.utexas.edu for more information.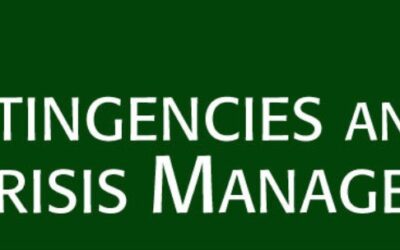 We are excited to announce the publication of our latest article "A different type of disaster response volunteer: Looking behind the scenes to reveal coordinating actions of disaster knowledge workers" in the Journal of Contingencies and Crisis Management.
read more
The Technolgy & Information Policy Institute main office is in the Jesse H. Jones Communication Center, Building A. We are part of the Moody College of Communication.
Find Us
2504 Whitis Ave.
CMA 5.102
Austin, TX 78712