Leaders from the cities of Premont and Orange Grove committed  to addressing flooding issues who met with Sam and Keri.
 Driving down Highway 281 about and hour west of Corpus Christi, Sam Brody
and I made a right hand turn onto Main Street in Premont Texas. The entire town is 1.7 square miles and has 2400 people who call it home. It is located on one of the hurricane evacuation routes in the Coastal Bend portion of Texas. Driving on the town streets, it is easy to see how a heavy rain will shut down roads, and water will get into the homes built below the level of the road. We walked into the Premont Chamber of Commerce building to find a filled room of approximately 20 leaders dedicated to telling their stories and seeing how our Digital Risk Infrastructure Project (DRIP) for rural Texas might be able to help.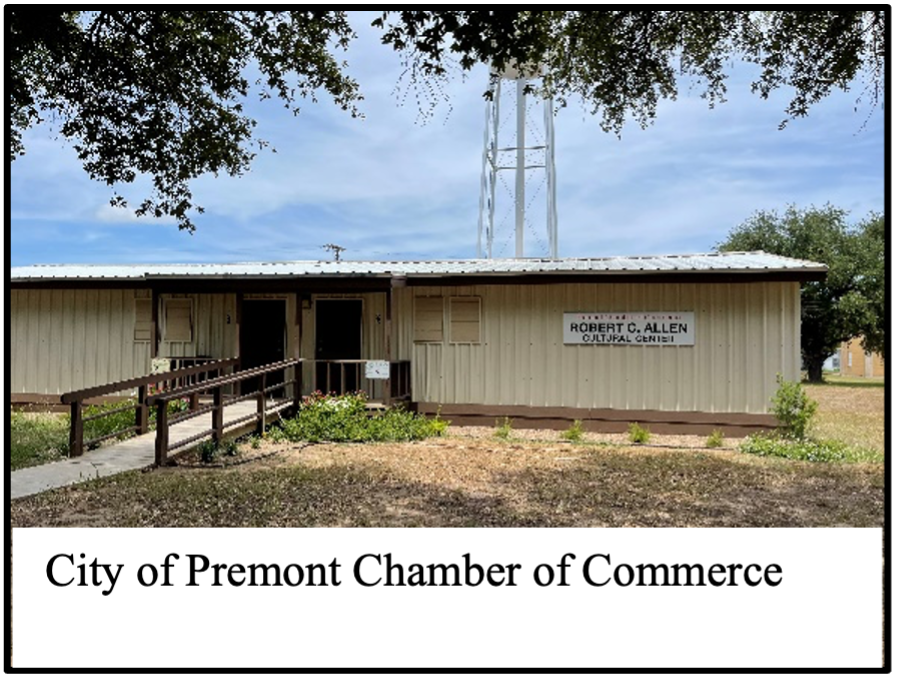 Three hours later, Sam and I walked out and at the same time we said, "They are amazing! We must find a way to help them." We were filled with admiration for this community because many of their leaders own businesses and work full-time, but they also work full-time trying to strengthen and build the community they love. Their mayor works for $200/month and uses her personal computer to do all of her city work. They don't have regular access to engineering and flood-planning experts, and they are getting flooded every time it rains. Furthermore, the rains are becoming more intense and the drainage in their city was designed so long ago, it is simply failing them. They know that there are sizable grants available to help communities like theirs, but they also know they don't have access to the data needed to write a compelling grant to get the funding they need.
Their flood maps are outdated and they have no data captured around street
flooding except local knowledge. And in this case, local knowledge is very
important because people living there know the streets that flood, and they know
the people who are getting water in their homes consistently year after year.
Conversations with Premont, and the neighboring town of Orange Grove, who also
attended our meeting, reinforced how important it is to value and capture local
knowledge around flooding. Yet capturing that local knowledge and using it in a
meaningful way to write compelling grants and get funding is very difficult.
Small Counties also Face Data Challenges
I've talked before about the complex relationships between cities and counties in Texas. Coordination among many stakeholders can be challenging, and resources often go to communities with the most people. Knowing what flood-related data exists and who has access to it can be especially challenging because there is turnover in both elected officials and people in key city and county jobs. When officials leave their jobs, data that is crucial for securing funding is gone with them which makes it difficult to retrieve the data. However, having that data is the baseline for being able to put together hazard mitigation plans that then make it possible to apply for additional funding.   
We have our work cut out for us on the DRIP project, but we are confident we can find ways to meaningfully help these cities and counties build their capacity. They all have incredibly dedicated community leaders who want to address flooding and improve their lives. While we are in this pilot stage, we are investigating how to provide helpful data and tools to strengthen their digital infrastructure.
Willacy County, located about an hour and fifteen minutes south of the town of Premont with a population of 21,000, has similar challenges. Driving through towns in that county you see sandbags—bags filled with sand often used to keep flood waters out—sitting outside the doors of business that are currently open every day.  When I asked why the sandbags are there at so many businesses on Main Street, people said, "Oh, our streets have flooded once a year for the past five years, so we need to be prepared at all times." These businesses are literally getting flood waters in them every year, and their owners are just trying to survive.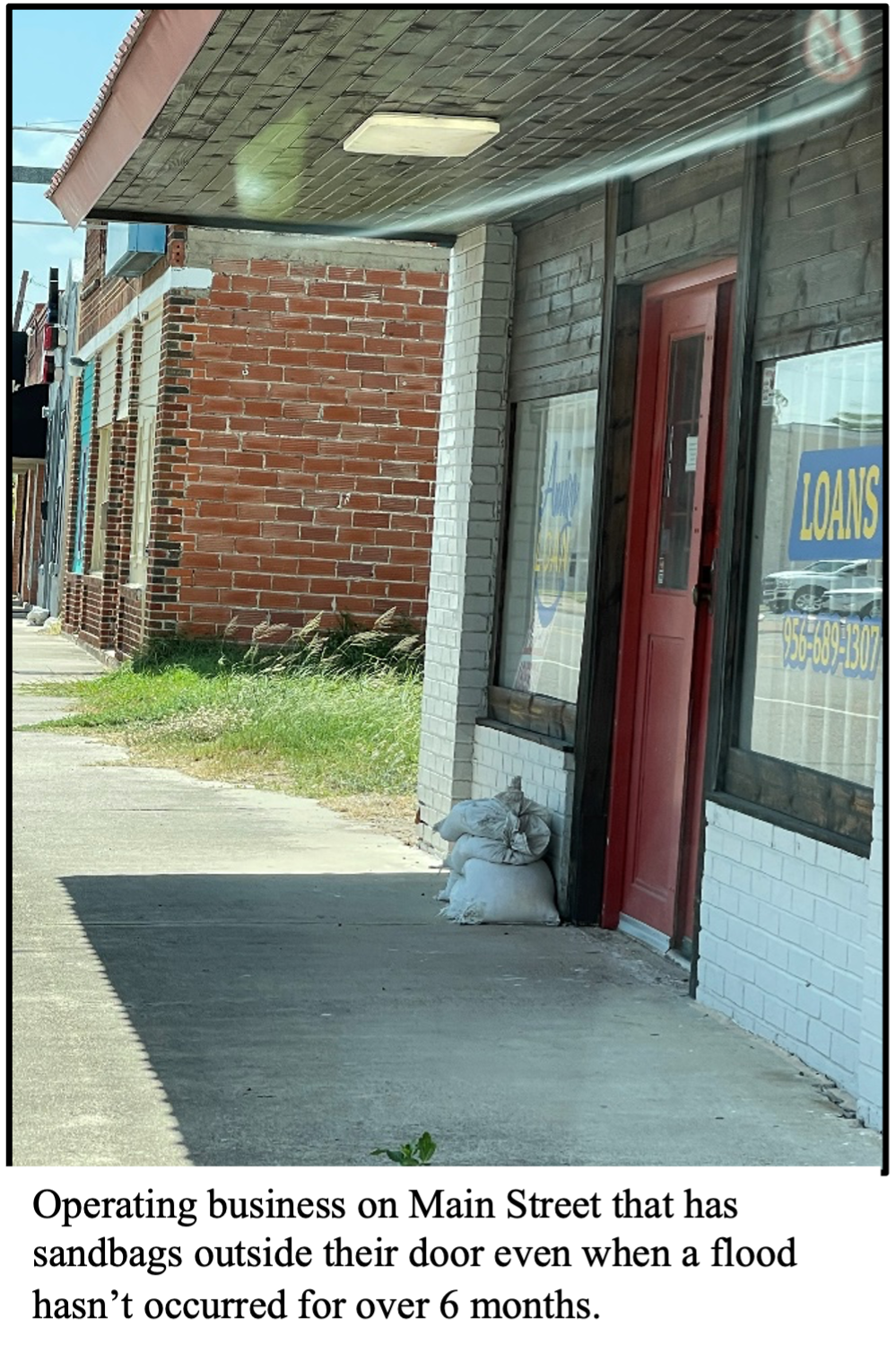 This county has the added challenge of having its east boundary be the Gulf of Mexico. When rain falls in neighboring counties, the water is often funneled through Willacy County to eventually land in the Gulf. Sometimes there is too much water, and it floods communities in this county. There are also places with very flat land, so the water doesn't have anywhere to go and it sits there for days or weeks, a problem for communities as well as farmers.
This county also has several Colonias, economically distressed communities that lack neighborhood infrastructure such as running water, paved roads, or electricity. Quite often these settlements were developed in areas that flood, and with limited infrastructure, they have no options for drainage.  Furthermore, homeowners often purchased land in ways where they have no title recorded with the county clerk. They typically pay cash or take out loans that are not managed through a bank. These arrangements make it difficult for them to prove they own their property and if they experience flooding, they have almost no options to get federal or state funds to help them rebuild.
In counties like Willacy, with 25% of their population below the poverty line, getting flood insurance, even if they know they live on a floodplain, isn't an option for most people. The country has a Building Inspector, but they don't have a Certified Floodplain Administrator or a County Engineer. Their flood maps are outdated and drainage issues are not well identified because they are not included on FEMA flood maps. They have dedicated economic development and county staff who are working diligently to write grants to help improve their county, but they are also hitting walls with respect to finding data they need to write those grants.