The IMLS Libraries and Disasters project, funded by the Institute for Museum and Library Services and in partnership with the Texas State Library and Archives Commission and Florida State University, is tasked with finding out how small and rural libraries contribute to communities in the face of disasters and crises. In order to better understand this contribution, our research team has gone out into the field to speak with librarians from across the state of Texas.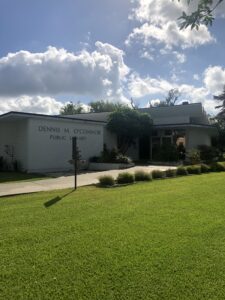 We have visited more than fifteen libraries in areas including more suburban counties such as Brazoria County, very rural, inland counties like San Jacinto County, and areas where the library is blocks away from the Gulf of Mexico like in Rockport. The libraries we visited are all within counties or zip codes considered the "most impacted" by the Texas General Land Office, but the extent of damage to the libraries has varied considerably. In some instances, the library may have closed for a period of days while others saw significant damage and were closed for months or even remain closed.
This variability in damage means that the responses taken by libraries were also quite diverse. We heard some harrowing tales from librarians that personally assisted in disaster response including helping direct emergency response teams, deliver donated goods and repair damaged structures. In other communities, the library served as a meeting space for aid organizations, and some libraries even housed first responders in their meeting rooms or even in their main library rooms.
Hurricane Harvey impacted all of these areas differently so the response from libraries has rarely been consistent. However, one of the major consistencies we have heard is the importance of the library as a resource for people to connect – with other people, with organizations, and with each other. Some librarians described to us their role as "bartender" in listening to stories of struggle and survival and serving the members of their community by offering a listening ear. Other libraries developed creative solutions to the problems their community was facing including adding material goods and equipment to their lending catalog that could help in home repair including tools and wet-dry vacuums.  Nearly every librarian mentioned the importance of their computers, printers, scanners, and fax machines in connecting their patrons to insurance companies and disaster relief organizations but also to check in with affected family members and friends that may have been displaced by the hurricane.
Hurricane Harvey hit Texas in August of 2017, but its impact still resonates throughout these communities and particularly in the libraries as an information hub for many of these cities and towns. It is our hope that, as we continue to speak with librarians and community stakeholders, we can gain a better understanding of how libraries have played a role in preparing for and responding to disasters but also offer suggestions or new ideas to help mitigate damage from future disasters.
Author: Cameron Lindsey