Being Watched: Embedding Ethics in Public Cameras
Project Description
As more cities deploy monitoring and sensing technologies, cameras are in the front lines of data-gathering in traffic, policing, and health and safety.  However, there are no commonly accepted standards for using the data these technologies provide, leading to concerns about government monitoring, especially as AI and analytics applied to video become more pervasive. Camera improvements, AI, and machine language  processing may mean better capabilities to achieve citizen safety, transit benefits, and so forth, but they also raise thorny issues of intellectual property, privacy and civil liability, among others.
In this respect, we examine the practical, theoretical and policy implications of public sector-deployed cameras, especially video cameras, in the context of ethical decision-making. The core components of the project include an examination of municipal policies and practices in the US around the use of cameras, particularly video cameras. We also investigate comparative policies around the creation and use of video data in the public sector. 
Our Goal
Examine municipal policies – including data management – around public sector-deployed cameras in context of decision-making
Create typology and comparative analysis of those policies
Share UT-based and other sources of expertise on this topic through monthly seminars
Scope of Work
Conduct literature review on municipal policies in US and elsewhere around public sector
Use snowball sampling to survey "industry leaders" and people associated with notable urban 'camera projects' and their equivalents in the field in order to gauge various concerns and responses to camera policies, again with a view to AI-related data processing;
Convene monthly seminars to share research and best practices tal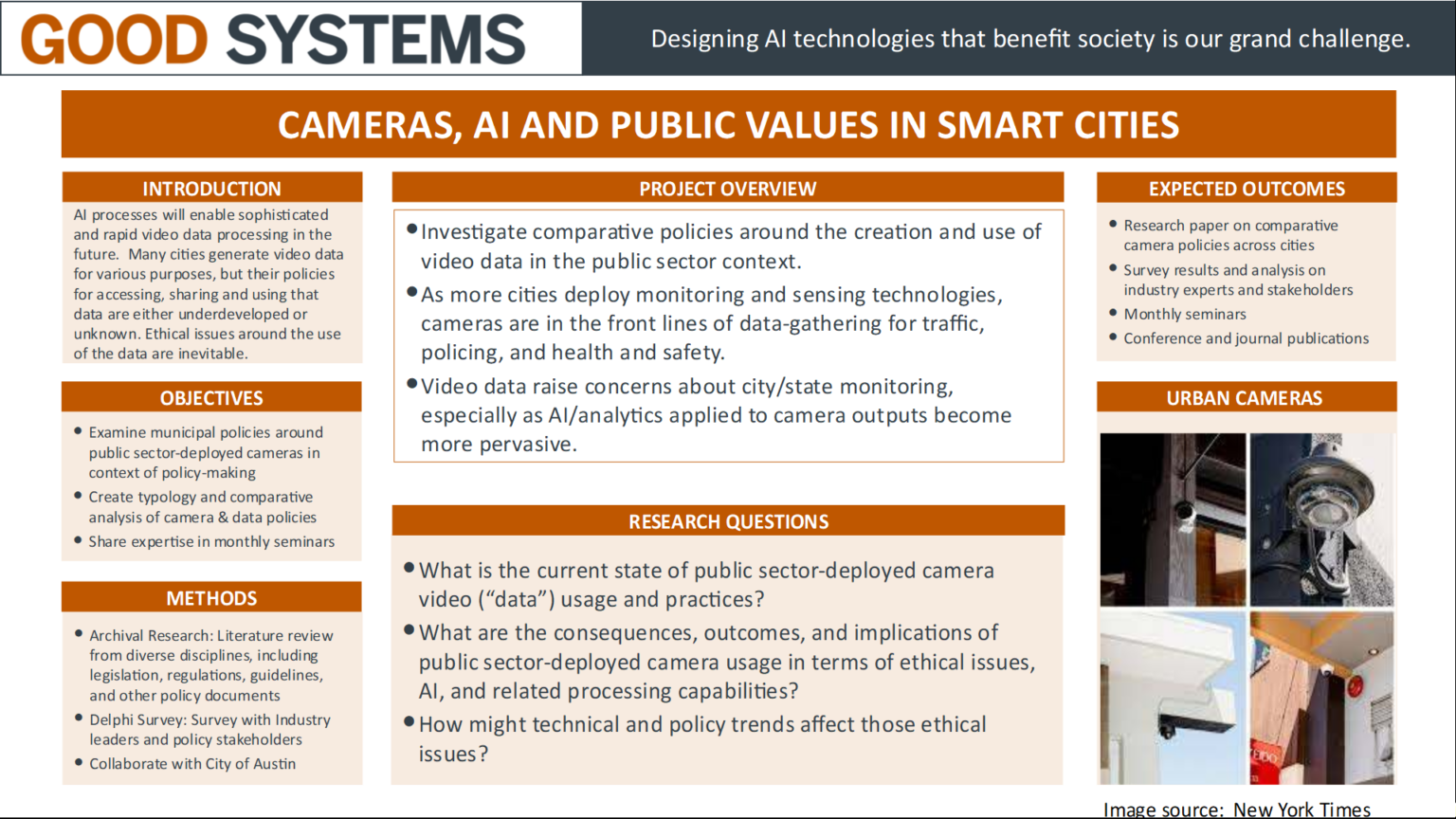 The Technolgy & Information Policy Institute main office is in the Jesse H. Jones Communication Center, Building A. We are part of the Moody College of Communication.
Find Us
2504 Whitis Ave.
CMA 5.102
Austin, TX 78712