The four-year Digital Media doctoral degree program at U.Porto and UNL, which began officially in fall 2009, is designed with a multidisciplinary structure supporting four specializations:
Creation of Audiovisual and Interactive Content
Technology
Journalism
Industry, Publics, and Markets
Students are co-supervised by professors in Portugal and Austin and may apply for a research fellowship in Texas, or for tuition funding to take courses at UT Austin for one to two semesters. Students are also eligible to apply to UT Austin doctoral programs for a dual degree. The program entails a full year of organized courses, including theoretical, methodological, and laboratory-based work. Roughly in the middle of the second year, students present their dissertation research ideas, with the intention of spending their remaining two years working on their original research.
Several UT Austin faculty members have taught long semester classes for doctoral students including Research Methods, Generative Music, Audio-Visual Lab, and Film and Media Scoring, often collaborating with Portuguese faculty partners.
The Summer Institute
The Digital Media Summer Institute is an annual event held in Lisbon and Porto. UT faculty members teach intensive courses on a specialized topic in their area of expertise. Since its start in 2007, the program has offered 36 short summer courses with an average of 13 students per course. Some sample course descriptions are below.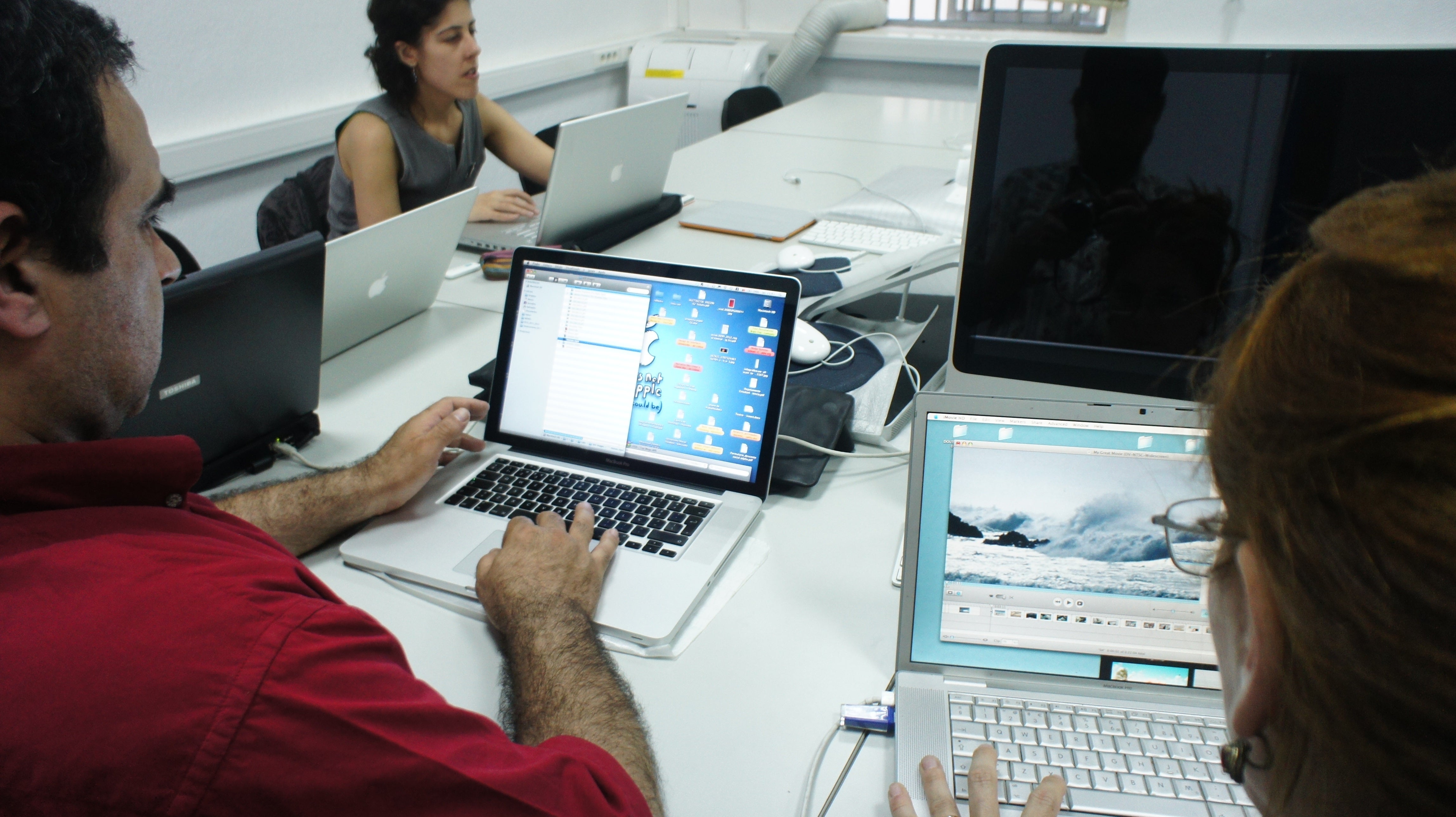 Collaborative Database Documentary Workshop (Karen Kocher, Lisbon)
Students learn to produce database documentaries–interactive documentaries based around discrete media assets such as video, audio, and still photography. These elements are connected together and accessed through a graphical user interface based around software such as Google Maps, Korsakow, and Adobe Flash presentations.
Entrepreneurial Journalism for the Digital Age (Rosental Alves, Porto)
After learning about how digital media has changed in business and distribution models for journalism, students developed prototype projects that could take advantage of the opportunities offered by digital distribution.
Collaborative Screenwriting (Richard Lewis, Lisbon)
The format of this course was intended to help students develop the collaboration skills necessary for working in the film and TV industries where scripts are often produced by writing teams. The course ended with students selecting one of the collaborative projects and finishing the work individually.
Cinematography Strategies for the Documentary (Steve Mims, Lisbon)
This course taught students production and post-production concepts, strategies, and techniques for creating advanced documentary projects. The class was structured around the creation of short collaborative documentaries shot in groups of two; students shot and edited a six-minute short during the course.
Human-Computer Interaction (Luis Francisco-Revilla, Porto)
This course offered a comprehensive view of the field of Human-Computer Interaction (HCI). Students developed their skills to envision and evaluate novel information interaction systems.
Design and Computation Series, April and May 2011
A collaborative production between the University of Texas, Universidade Nova de Lisboa, and Instituto Superior Técnico, the Design & Computation Series addressed to design and computation, particularly in-game environments and interactivity. The series featured experts who gave talks addressing both students and the general public. Speakers included renowned game designer Ernest Adams, interaction designer Panos Markopoulos of Eindhoven University of Technology, and researcher Dr. Anthony Brooks of Aalborg University, as well as UT faculty Yacov Sharir of Theatre and Dance and Dan Olsen and Peter Hall of Design.