By Jennifer Torres, Class of 2026
Before the trip to Edinburg, the only contact I had with my teammates was through Zoom. It was not until the trip that I was able to meet and greet them. I was nervous about seeing a new city and meeting new people, especially those I would be working with during this summer. The trip was a new experience for me: one of a kind and filled with many firsts. Although I had traveled on the bus without my family before, I had never traveled alone via airplane. The night before my flight I could not sleep. While everyone in the house was asleep, I was awake.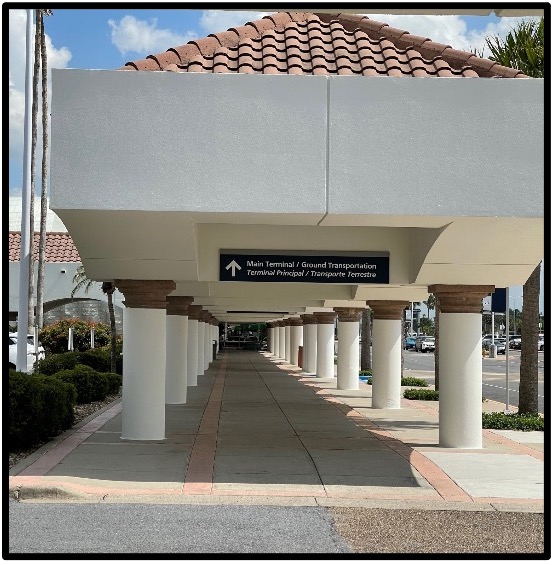 It was not until three in the morning that I decided to get ready. I was nervous about the day ahead of me. At six in the morning, my dad got up and was ready to take me to the airport. Because I felt anxious and nervous, I was not hungry and forgot to get something to eat. On our way to the airport, my dad asked me, "¿Va comiste?" "Did you eat already?" I said no. Without hesitation, he stopped at a nearby bakery, and we got kolaches. It was not long after that we got to the drop-off area of the airport. We both got down and hugged, and then I was on my way. As I got thru the doors, I was a bit overwhelmed. I was not sure where to go or what exactly to do, but I asked questions. I checked in, even though I had already done so the day before, walked past security check by accident, and then went back. After waiting in line and passing through security, I made my way to the gate and on the plane. The scary part was over. I managed to get on board on time. It did not take long before I landed in Harlingen where I got to meet Professor Stephens for the first time in person.
Before the car journey to the museum began, I had the privilege of meeting two other professors working with Home to Texas and IC2. During the car ride, I got to hear about their career interests as well as their current projects. I noticed there are many opportunities that the University of Texas offers, and some of the different projects overlap with others. The research done by professors and students helps not only Texas communities, such as local and state governments, but also the whole world. The research also paves the way for new studies that can have an even bigger impact. Although there are many projects that people may not be aware of, the findings from those studies are oftentimes what helps to develop the world and make a change. Throughout that car ride, I got to learn more about the people I work with, as well as the wonderful research they do and the impact it has had.
Once we arrived at the Museum of South Texas History, I was greeted by magnificent architecture that was beautiful inside and out. When you reach the front of the building, you see a large wooden door with marvelous Talavera steps. Once you are inside, the walls are decorated with Talavera and the halls are embellished by one-of-a-kind iron crafts. The staircase is just as beautiful, adorned with Talavera steps and iron railings. You can see the time and detail that was put in to make the museum feel unique and surrounded by culture. As the exhibit begins, you are transported back in time. Each part of the museum holds a story of history. Like any great story, you begin to learn about the land and the animals that lived there. As you walk through the first part of the exhibit, you see the evolution of the river; the animals that once lived on the river land are now extinct. You can also see the different kinds of tools used and how they evolved as time passed. As you continue to walk, you enter a new time and era. Our tour guide at the museum led us through the paths of history and shared stories about each part. As we walked together, we listened and observed, and it felt as if we were traveling through time. Our tour guide's words held valuable knowledge of the past and taught us a history of Texas we had not learned before. School teaches us about history; however, the museum helped us be a part of that history and supplied more depth to the stories that we were taught. We learned about the sacrifices others made to help us be where we are today, as well as the values those before us held.
In those two days, I not only learned about the history of that region and prepared for the work I was going to do, but I also became closer to my teammates. I not only learned about the cities that they come from, but I also learned about them. We bonded as a group and formed friendships. Although I live far from them, I know that if I have any questions, I may ask them. I hope to keep in touch with them after we are done working this summer. Going to Edinburg is an experience that I will never forget.
 Read Jennifer's second blog post here.

To learn more about this project and see more student and researcher's blog posts, click here.