The library is oftentimes a crucial Internet access provider in small and rural communities. The most popular way for library patrons to access the Internet is within the walls of the library. However, libraries across the country, and across our project states Texas and Florida, have extended their Internet access to patrons beyond their doors in at least three ways: extending the building's Wi-Fi to reach the parking lot or nearby areas, lending mobile hotspot devices, and by deploying mobile libraries.
Extending the building's existing Wi-Fi to reach the parking lot and surrounding areas to the library is one of the simplest ways to bring more Internet access to the library's community and patrons. Providing Internet access outside of library walls allows patrons a semblance of privacy if they want to use the link while in their own vehicle. This is likely a quieter space, has easier access for quick uses, and requires no need to socialize or interact with others, a clear benefit during the COVID-19 pandemic. Particularly for patrons who cannot access the Internet at home, providing Wi-Fi in the parking lot can be a boon especially if the Wi-Fi router is left on after business hours.
Image from the Texas Free WiFi Map provided by the Texas State Library and Archives Commission, that lists all of the free Wi-Fi hotspots at libraries across Texas and provides information about whether the library provides Wi-Fi to the parking lot, the hours the Wi-Fi is on, tips on where to park for the best signal strength, and if any login information is required.
Many libraries extend their Wi-Fi access past the library's normal operating hours which permits greater flexibility for library patrons to access the internet and the library's digital services on their own time. Some libraries leave the Wi-Fi accessible 24/7, while others limit access so that it is not accessible late into the night. Librarians indicated to us that there was a perception among local governments that providing Wi-Fi access to the parking lot late at night may encourage petty crime or youths to be out late, prompting some libraries to curtail late night access. Oftentimes, these types of decisions – whether to leave the Wi-Fi on 24/7 or not – are not up to the librarians themselves but to city or county officials.
Lending mobile hotspots is another way that libraries help patrons bring the Internet home. A mobile hotspot is a device that connects to a wireless, cellular internet provider in locations that have cellular towers to provide Internet for devices that connect via Wi-Fi. Libraries around the country increasingly have been adding hotspot devices to loan to patrons, oftentimes with a laptop, tablet, or Internet-capable device so that patrons can use the internet at home or on the go. During a disaster, wireless infrastructure tends to be easier to restore than wired Internet infrastructure, and therefore mobile hotspots can be a great benefit to those who otherwise lack connectivity. Additionally, the mobility and portability of the mobile hotspot permits use outside of the home, which can help those who have been displaced by a disaster and need Internet access.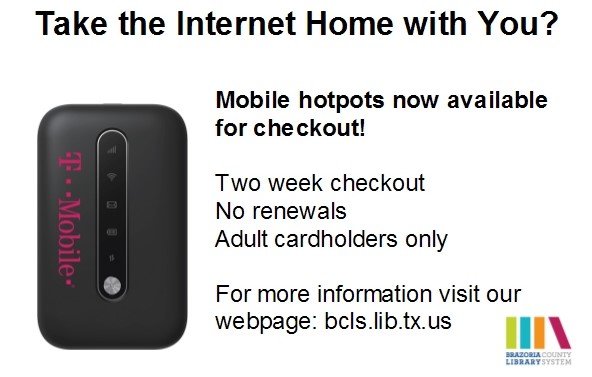 Image from the Brazoria County Library System in Texas promoting their mobile hotspot lending program.
Last, some libraries have also put together mobile libraries that can act as a hotspot by providing Wi-Fi accessibility to an area around the mobile unit. The mobile library has additional advantages such as providing charging for battery powered devices, a generator, portable computers, and a librarian on board who can assist patrons in need of library resources and other services. After a disaster, these mobile libraries can be deployed to areas in need or can provide library services if the library building has suffered damage and is unable to open to patrons. Though mobile libraries and mobile hotspot lending programs are temporary solutions for patrons without home internet access, they provide a much-needed solution to the community in times of need.
By providing crucial internet access after disasters beyond the doors of the library, librarians help patrons access library services, disaster recovery assistance, and the internet – all of which can aid in local community resiliency.
Image below is from the Northwest Regional Library System in Florida announcing their new mobile library