By José Manuel Vazquez, Class of 2026
For this summer, I joined the Disaster Strength team, a team of researchers whose mission is to learn more about how the residents of South Texas respond to natural disasters. From local business owners to city leaders, our research will indicate the strong and weak points of our community's disaster preparations. In return, the team will be able to learn, adapt, and provide the resources needed to minimize the harsh impacts of disasters in South Texas. The Disaster Strength team took a two-day trip to the Museum of South Texas History, where we all came together and learned more about the community through its history and our own anecdotes.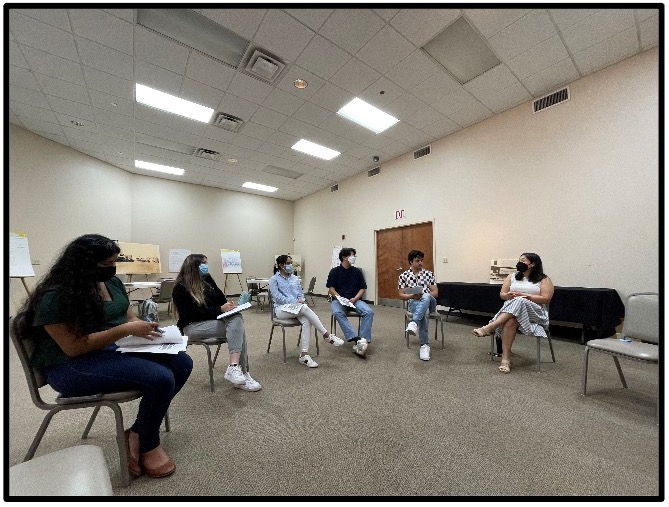 Prior to the trip, I had only briefly met some of my team members, so we were all fairly strangers to one another. Nevertheless, the first day of the trip would require us to share personal stories, allowing us to connect and learn through one another. My biggest takeaway was that we all found a deep meaning in the smallest of objects. For instance, one team member described an entire backstory of her family's history that was connected to a Cross.
Another team member had an epiphany about the value of family based on a tablecloth. It is interesting to know that these objects would only have a general meaning to any other person, but to us personally they have an entire story behind them. This brings me to my conclusion on our community: we hold value in the smallest of things, and we carry generational stories with us to share with the future generations.
The second day of the trip generated thought-provoking questions for me thanks to our very intelligent tour guide. It was a day where I questioned the true history of my community. The most memorable part of this second day was when we got together in a circle and discussed our thoughts and takeaways from our trip. It wasn't until that moment when it hit me: My knowledge about my community's history is based only on what I have heard, seen, read, or been taught. Unfortunately, it is very possible that some of the history I know could have been skewed or even completely false. These thoughts took me back to the first day of the tour, where our museum guide provided many anecdotes from Álvar Núñez Cabeza de Vaca. Some of those stories were about honor and doing great work, yet there are also stories of people being marginalized and overlooked. I learned that some historical details are often overlooked, and it is just as possible that historians, or even historical figures themselves, have altered or omitted historical context or stories. In effect, no one truly knows the entire history of a subject except for the people who have experienced. We have storytelling, however, and it is a powerful way to put yourself in the past through someone else's words.
All in all, those two days were just the start of an immensely informational journey I have embarked on. I am excited to now interview people around my community and get their stories!
Read Jose's second blog post here.
To learn more about this project and see more student and researcher's blog posts, click here.