In 2018, IMLS awarded a grant to Dr. Sharon Strover, at the University of Texas at Austin, and Dr. Marcia Mardis, at Florida State University, to study how small and rural libraries contribute to community resiliency after a disaster. We conducted more than 100 phone, virtual, and in-person interviews and 2 focus groups, with librarians and local organizations in small, rural communities in Texas and Florida about their roles before, during, and after a disaster. In particular, we asked the librarians to reflect on their experiences with Hurricane Michael in Florida and Hurricane Harvey in Texas. In 2020, IMLS provided additional grant funding to understand how these libraries in Texas responded to the COVID-19 pandemic.
While hurricanes striking the Gulf Coast motivated our initial proposal, our fieldwork underscored the repetitive nature of flooding in our target regions; and these sites also experienced fires, tornadoes, freezes, chemical plant explosions, and disease disasters. These are framed as 'crisis events,' but their growing, repeated presence and impact on communities forced us to broaden some of the ways we were thinking about disasters and to dive into thinking about resilience in more complicated ways. For example, we noted the repeated vulnerability of certain populations. We also added the pandemic crisis to our research effort as another type of disaster, and effectively created research enabling us to compare community and library responses to yet another type of disaster.
This research brings to light the "invisible" and "unwritten" labor and contributions of librarians to disaster preparation, relief, and recovery efforts. Further, by investigating the best practices of these librarians this research helps librarians learn from their peers. Our research is rooted in conceptual issues around crisis response, the communication systems that root libraries in their communities, and finally, the processes that contribute to community resilience as they may bear on libraries.
Our research questions asked:
How do small and rural libraries respond to disaster events and how do they interact with their community members?
How do libraries use information and communication technologies during and after disaster events?
What institutional practices contribute to libraries' resilience during and after disasters even as they contribute to their communities?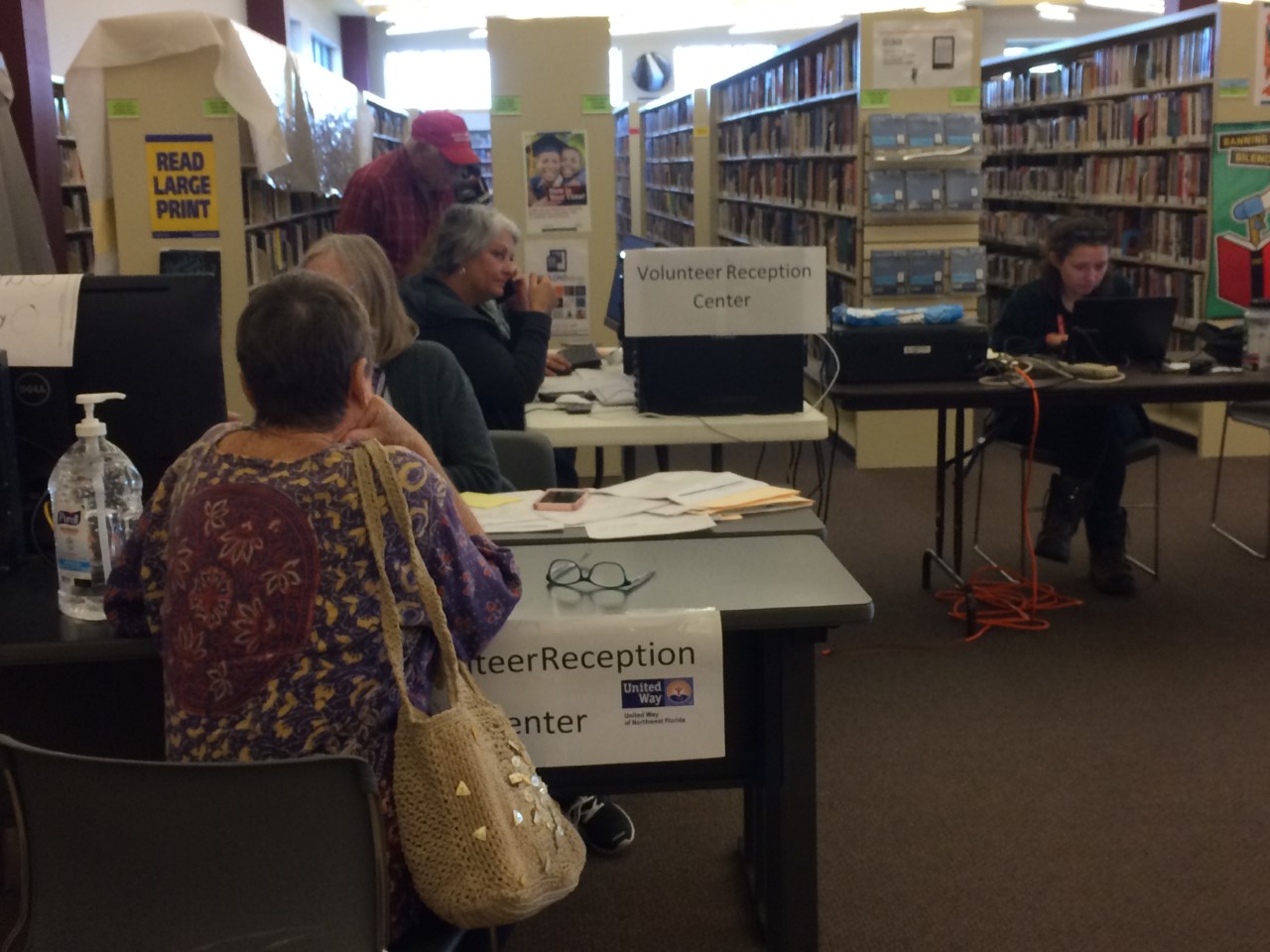 The Volunteer Reception Center was organized and staffed by librarians at Bay County Public Library. Librarians vetted volunteers arriving in Bay County during Hurricane Michael, matching them with recovery assistance opportunities.
Research Question 1
Librarians as skilled information professionals are on the frontline of disaster recovery by connecting those affected by a disaster to recovery resources.
When the same type of disaster recurs, preparation is feasible (i.e., installing steel shutters capable of withstanding high winds or blasts). During the disasters, librarians self-elected to provide assistance outside of their traditional roles, such as aiding in helicopter rescues and communicating with their patrons about weather conditions and road closures. The recovery activities we document show how libraries can share costly equipment or simply things most people do not have (shop vacs, hotspots) in order to satisfy peoples' needs shortly after disasters strike.
Individuals' emotional needs are highly salient in the aftermath of disaster, and librarians became sources of emotional support. Additional training for librarians in this regard would be desirable.
The humanitarian spirit that compels librarians to go above and beyond for their communities created conflict when the personal safety of librarians was at risk by providing routine services. This was particularly evident during the COVID-19 pandemic.
Research Question 2
The librarians primarily relied on word of mouth, road signs, and phone calls in order to communicate, coordinate, and disseminate information to interact with stakeholders.
The strength of libraries during disaster recovery is their ability to coordinate disparate organizations, local government, and faith-based organizations and effectively leverage their local communication networks to provide assistance. We found that some disaster relief workers were able to use librarians effectively, while others did not.
Most libraries were poorly equipped to create and circulate their own social media content. Libraries that were part of a larger library system had more capacity to provide branch libraries with substantive social media content. Many libraries heavily utilized the content produced by State Library organizations.
Small town and rural libraries frequently worked with faith-based organizations to respond to the immediate physical and emotional needs of the community.
Research Question 3
Strong relationships between local libraries and local governments can help local officials understand how to effectively utilize the skillsets of librarians during a disaster.
The long-term approaches librarians adopt to counter disasters prepared them for subsequent problems; even as they repurposed themselves to respond and to aid in immediate recovery, many of their practices and training appear to help their communities recover in the long term.
Recognizing that the library is a place to gather enables librarians to think through what communities might require in the next disaster, whether it is comfortable places in which people simply recover or information from social services or better collaboration with aid organizations. Similarly, when regional libraries have occasions to meet or work together, they build productive and supportive relationships that can pay benefits during disasters.
When library representatives are routinely included in disaster planning bodies, such as in counties or in regional groups, the efficacy of libraries improves.
The recognition that communities rely on a sense of identity from their histories as physical places with unique events and people builds resiliency and community. To foster identity, gathering and composing community narratives and storytelling can be a significant library function.
Librarians are unsung heroes for small, rural communities in times of disaster, and our research concluded that local governments need to include libraries in local disaster mitigation plans to ensure community resiliency and the resiliency of its libraries. As evidenced by the data collected throughout these interviews, the contribution of librarians to their communities during times of disaster is crucial and fills an unmet need for not only individuals in the community, but also local government and disaster relief organizations. Further, librarians are "filling-in-the-gaps," which means that these gaps are not systematically addressed by local disaster plans. Librarians also do not receive the necessary support to continue to do so, which increases the likelihood and effects of burn out. Therefore, librarians need formalized, systematic support for the work they are already doing and that work needs to be incorporated into local government disaster plans.
To read more about this project, check out a more in-depth overview of the project, its methods, and conclusions by clicking here, or check out the full report submitted to IMLS here.
IMLS Log Number: RE-96-18-0127-18; Laura Bush 21st Century Librarian Program